Connect with the right email address
Let us manage your business email addresses. We use Google Apps for Business to manage client's email addresses, calendars, contacts, IM, and more.
Web email uses the same system as Gmail, comes with a huge amount of storage, and supports email on your smartphone, tablet, and email programs on a Mac and PC. In addition, it offers essential tools like an online calendar, instant messaging, word processing, spreadsheets, presentations, and more. It's a fantastic service for a very low cost that we highly recommend.
Business email example:

Business calendar example: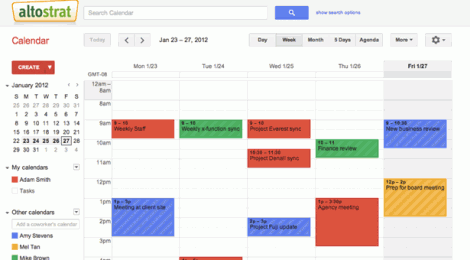 What you get
An email address that can be accessed via the web from any browser or set up with your existing mail program such as Outlook, Entourage, or Mail. It also works with smartphones such as iPhone, Android, Blackberry, and Windows Phones, and tablets such as the iPad, Android tablets, Kindle Fire, and Surface.
An online calendar that can be set up just like your email so it is available on all of your computers and devices. Or, simply click Calendar from the online email interface.
An instant messaging service tied specifically to your email address so you can keep your personal and business IMs separate.
Google Drive (formally Google Docs) that includes online storage, word processing, spreadsheets, presentations and more.
 Costs
More info